Amulets and symbols magick of Quabbalah
Some of the most used amultets and symbols come of today come from Quabbalah .
Like the
star of David
or a hexagram used to invoke , evoke or banish and compel spirits . Hexagram is representation of maxima As above so below by Hermes Trigeminus . It also represents the four alchemical elemental symbols united .
Than there is for example a
Hand of Miriam
, an amulet to dispel the evil eye and repel enchantments .
Not to mention that the very TETRAGRAMATON , is a powerful amulet for itself .
Other than amulets we have Celestial or Angelic characters well known from books as Goetia or Ars Armadel , which are basically seals used in invocation and evocations formulas ( I mentioned those in article about Invocation avocation procedure ).
There are also inevitable pentacles of Solomon that are somewhat a mixture of amulet talisman and evocation seals. They have however an amazing resemblance to Voodoo weves .
They can be made in metal , correspondent to planets or simply the one that seems most appropriate . The ones available for purchase are most commonly made in silver , or rather engraved on it . But they can be drawn on parchment or even simply on the ground. As for Solomon pentacles they can be carried as talismans , burned on parchment , buried or placed in water to cause rain even .
Now here are few example:
The seal of 24th spirit in Goetia called Naberius , used to summon and constrain it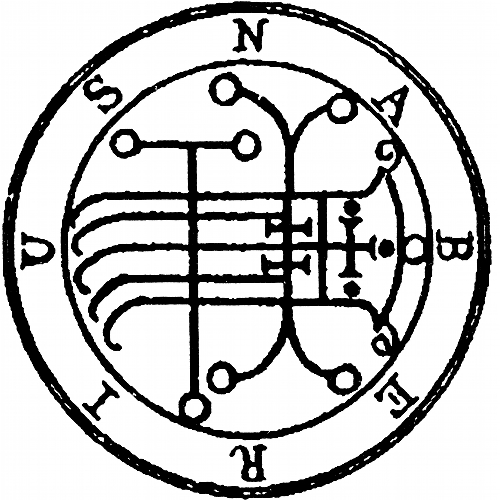 The hand of Miriam or hamsa , known also as handof Fatma at Muslims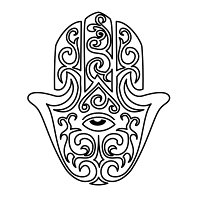 From the Sixtth Book of Moses , talisman or seal that brings luck and favour of all who are near You
6th and seals of Mars, sixth is good for compelling and restraining demons